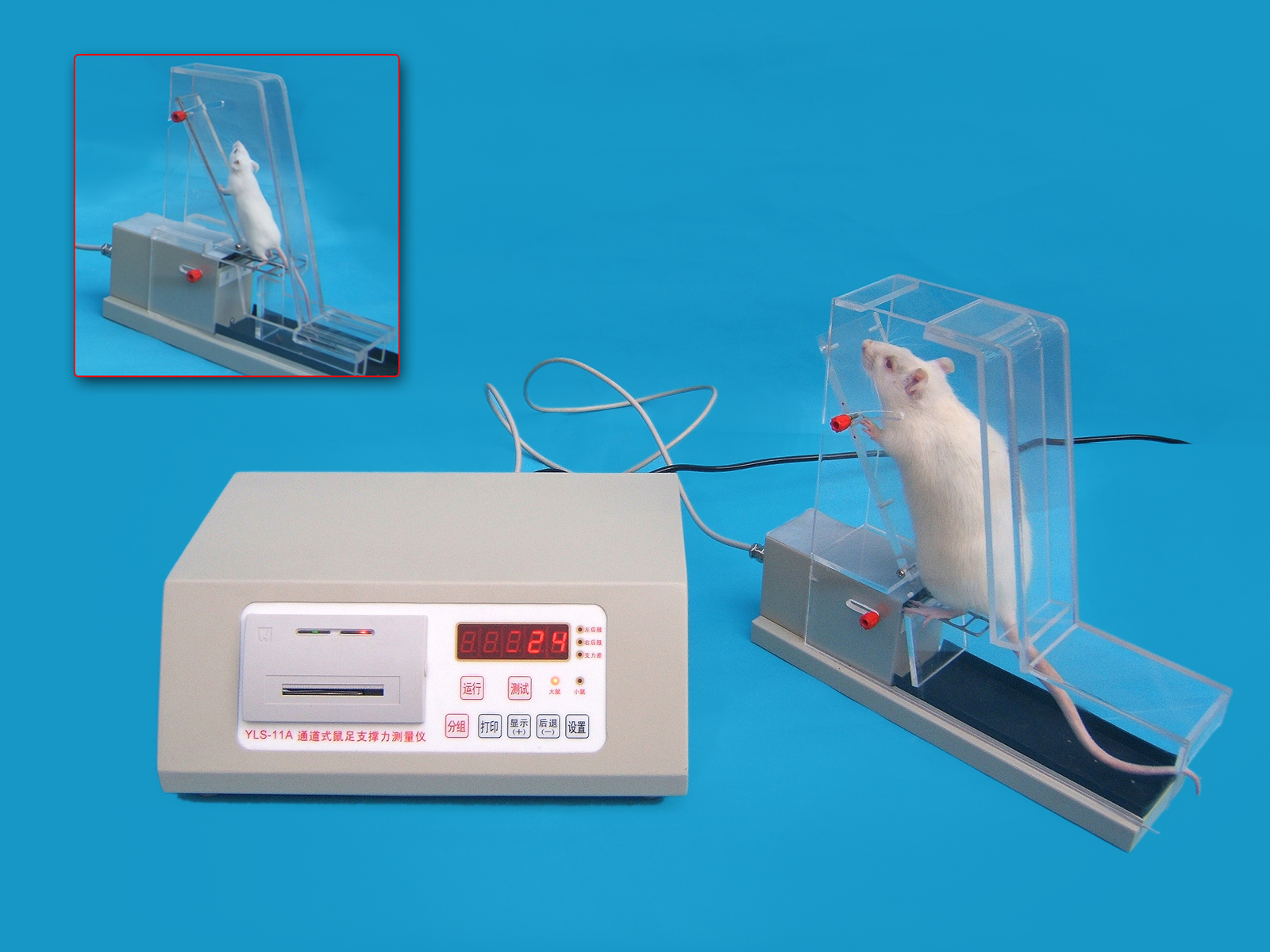 Measuring and testing mice and rats' hind legs force is an advanced method for screening analgesics and anti-inflammatory drugs.
If supporting forces between two hind limbs are different means inflammatory and painful leg has less weight support than that of the healthy leg. If the difference is more considerable, there will be more pain in the inflammatory limb. After using the analgesic drug, if the difference is narrowing means the medicine is affecting on. We can use the equipment to screen the efficacy of anti-inflammatory and analgesic drugs.
The hind limb force gauge is specialized for mice and rats' hind legs support force measuring. The gauge's advantage is no need to fix or stimulate the mouse or rat. The feeling threshold will be the same due to there is no pain and anxiety generated. So it is the ideal equipment to reflect the pharmacological efficacy of drugs.
The design enables easy and fast to load and to unload the animal. The ladder-shaped weighing pedals conform to the animal's treading habits. The observation of the position of animals is easier when they are on the raised platforms. At the same time, feces and tails will not affect weighing accuracy.
The testing and measuring gauge is equipped with a footswitch and a hand control switch to measure the leg force in time. The gauge can directly display the mice's measured support force and rats' hind limbs, and the difference between the two legs. The indicators are simple and straightforward.
The measurement data can be printed out directly or transferred to an Excel file on a computer. The weighing station is simple to change and clean.
Specification of the measuring gauge
Maximum weighing of a single pedal: 1,000g
Measurement accuracy: 0.1g
Measurement tolerance: <0.3g
Built-in printer
The internal clock runs for 10 years
With PC communication interface for data transfer
With footswitch and control button
Input voltage: 200V~230V, 50~60HZ
Power: 20W max
Weight: 4000g
The dimension of the gauge: 330×200×150mm
Size of rat weighing station: 300×80×300mm
Size of mouse weighing station: 300×80×230mm
Related products