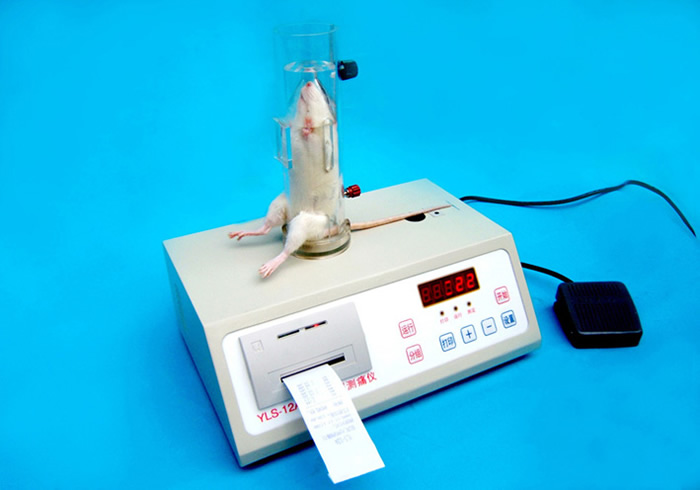 Principle of the mouse tail dolorimeter
As you can see from the mouse tail dolorimeter photo, a beam of light uses to apply pain to the mouse.
In other words, the beam of light is irradiated on the tail of the mouse or rat to produce a heating effect, which causes pain to the mouse tail.
The mouse will then lash its tail if the pain is caused by the light beyond the threshold pain value.
Features of the mouse tail pain threshold detector
Numerically controlled frequency modulation makes the heating light stable and easy to adjust
The processed infrared light can raise the temperature evenly
The accuracy of time recording is up to 0.01 seconds
The dolorimeter can hold the mouse or rat vertically to make the tail easy to fix for the experiment
Optional for manual timing and automatic photoelectric timing
Built-in printer
Specification of the pain threshold detector
Infrared light for heating
Illumination power range: 23W-38W, 16 levels setting, 1W adjustment accuracy
The maximum illumination time is 16 seconds (to avoid burns on the tail)
The minimum time unit is 0.01 seconds
Options of manual or photoelectric timing
The internal clock is available to run for ten years without an adjustment
It comes with a printer, two printing modes (storage printing and instant printing)
With the PC interface and data communication program
Memory 10 groups of data, each group has 100 data
The dolorimeter is equipped with one set of mouse bracket holder and one set of rat bracket holder (mouse bracket holder has five mouse fixing tubes, rat bracket holder has two rat fixing tubes)
Input voltage: AC 220V±5%
Maximum input power: 50W
Dolorimeter dimensions: 335×230×120mm
Weight: 3.5kg
Precautions for use
First, turn off the power and put it in a dry and ventilated place for long-term storage.
Besides, there is a high voltage inside the pain detector, and non-professional personnel is forbidden to open the device, which may result in electrical shock to the person or irreversible damage to the detector.
Related products